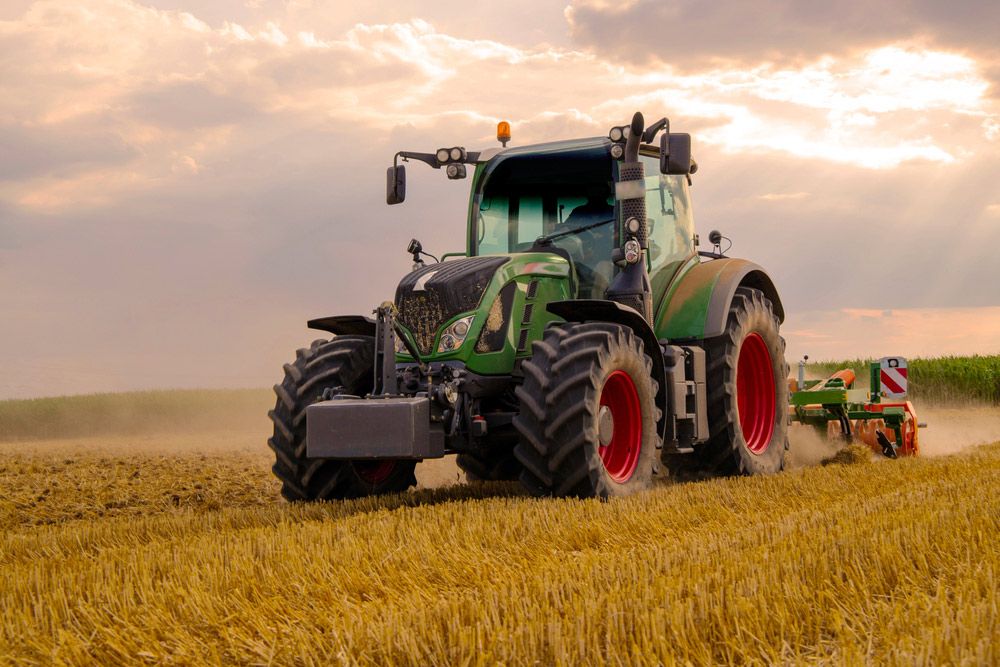 The Best Tractor Brands In AU
In 2020, Australia experienced the biggest surge in tractor sales since 1981, with figures reaching an impressive 13,700 registrations. However, with this increased demand and interest in the tractor market, it's important for customers to have an understanding of the range of vehicles on offer, and which tractor brands are the best investment for their needs. It's not a decision that you should be leaving to chance. To help you with your search, here we've listed some of the best tractor brands in Australia.
As a global agricultural machinery manufacturer founded in 1895, New Holland is a brand that can be trusted to provide high-quality, reliable products. With a huge range of machines on offer, including tractors, forage harvesters, combine harvesters, balers, self-propelled sprayers, seeding equipment, haying tools, hobby tractors and utility vehicles, you can rest assured that they know their stuff.
New Holland offers tractors all the way from compacts up to larger machines, meaning they'll definitely have what you're looking for. If you're new to farming and are wanting something simple, the brand has some great entry-level machines to browse, like the BOOMER 25. However, if you're an experienced farmer looking to add to your fleet, they also have a range of much bigger, more powerful tractors to pick from, like the T7 and T6 Methane. Furthermore, the company has a clear focus on environmental improvements which, in turn, helps to keep operating costs down.
Most commonly known for its bold design and great performance, Lamborghini Trattori is a great choice. Surprisingly, the tractor company was founded by Ferruccio Lamborghini before he went on to create Automobili Lamborghini, so this should be a good indicator of the quality of these machines.
If your current tractor takes a lot of use, you would regret not investing in one of the new Mach VRTs, which offer an immense 181,3hp. But if you're looking for something to manage smaller jobs, you can't go wrong in choosing the much more compact Strike C crawler, which is still the most powerful in its class.
Deutz-Fahr is a German company that was founded in 1968. Prior to its acquisition by the KHD Group, leading agricultural equipment manufacturer Fahr launched its first tractor in 1940. From then on, it continued to grow and expand its product range to meet evolving farming needs.
The company has its own engine control system that lets you maintain fuel efficiency even while using maximum power, which offers a number of benefits, especially in modern times where concerns about costs and the climate are only increasing. Since they specialise in tractors, Deutz-Fahr is highly regarded and is a safe choice if reliability is key for you.
They have a range of smaller farm tractors like the 5G TB series as well as large machines, like the 9 series, which are intended for more heavy-duty undertakings. Their machines are also efficient and offer increased noise reduction. Aside from this, they come with a wider range of gears and controls than other brands. 
Fiat has a rich history dating back to 1919. Throughout the years, the company has established itself as one of the leading manufacturers of agricultural equipment, specifically tractors. Fiat has continued to grow and merge with other businesses, starting as Fiat Trattori S.p.A. before becoming Fiat Group, CNH Global and now CNH Industrial. If that name sounds familiar, it might be because New Holland Agriculture is under the same banner. CNH Industrial is a global company renowned for their world-class equipment and services.
One of the most notable products from Fiat is the Fiat 25R tractor. This tractor is known for its reliable performance and is a popular choice for farmers and contractors alike. Its classic design and impressive specs make it a staple in the world of agricultural equipment.
Fiat continues to be a trusted and respected name in the industry, known for its commitment to quality and innovation in the production of tractors and other agricultural equipment.
Landini's reputation as a trusted brand in the agriculture industry is well deserved. With a rich history dating back to the early 20th century, Landini has consistently pushed the boundaries of tractor technology and design to deliver reliable and efficient tractors for a variety of farming applications. From orchards and vineyards to vegetable row crops, Landini tractors have proven their versatility and effectiveness in meeting the needs of farmers and contractors across the world.
In addition to their exceptional performance, Landini tractors are also known for their ease of use, making them a popular choice for farmers and their employees. With intuitive controls and straightforward maintenance procedures, these tractors are designed to minimise downtime and maximise productivity. Moreover, Landini's commitment to affordability ensures that its tractors are accessible to farms of all sizes.
McCormick Tractors International Ltd is a well-respected brand in the world of agriculture, known for its range of high-performing tractors that are at the top of their class. With a focus on technology, comfort and safety, McCormick has created a line of tractors that are designed to meet the ever-evolving needs of farmers and agricultural professionals. The company was founded in the United States before expanding its horizons internationally. In 2000 McCormick was taken over by the Argo Group and continues to design and produce more innovative, powerful machinery.
McCormick tractors continually tap into the latest advancements in engineering and design, ensuring machinery that's built to perform at the highest level. In addition to being technologically advanced, McCormick tractors are also known for their comfort and safety features. The company's attention to detail has ensured their tractors are not only effective, but also user-friendly, with ergonomic designs and intuitive controls. Whether you're working in the fields all day or moving heavy loads, McCormick tractors are designed to make your work easier, safer and more comfortable.
SAME—four letters that encapsulate a legacy of excellence in agriculture. SAME is an acronym for Società Accomandita Motori Endotermici, an Italian agricultural machinery manufacturer. With a deep-rooted connection to the farming world, SAME has been at the forefront of modernising the industry with its cutting-edge tractors and a long line of technical advancements. Each SAME tractor model has the perfect balance of modernity, efficiency, durability, safety and reliability, making them trusted and dependable partners to farmers everywhere.
For generations, SAME has earned the respect and trust of farmers worldwide, embodying the fundamental values of strength and practicality that it has always represented. With its commitment to excellence and innovation, SAME continues to be a beacon of quality and a reference point in the agricultural industry.
Which brand is best for you?
These are just a handful of the brands available to you in Australia. It's important to be well informed before deciding which brand to invest in, especially as agricultural machinery can come with large upfront costs.
However, if you do run into a problem with your tractor and need spare parts, we can help. We stock parts for all of the leading tractor brands above. Shop the range at South Burnett Tractor Parts today.